The Future of the Female Entrepreneur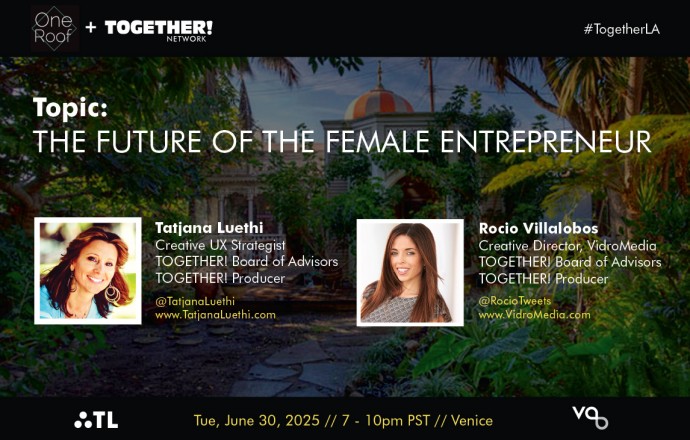 VidroMedia and the TOGETHER! Network are teaming up with "One Roof" for our June event! Come and join us at One Roof, the coolest new Co-working Space for Female Entrepreneurs on the Westside.
WHAT:
The Future of Female Entrepreneur
An evening of conversation, workshops, and networking amongst like-minded women who are driven to merge Passion + Purpose + Balance + Profit into their business: What are your goals, desires and challenges as an aspiring, new, or existing female entrepreneur?
WHEN:
Tue, June 30th,  7:00 PM – 10.00 PM
(please arrive 15 minutes earlier to allow for parking and getting settled)
WHERE:
One Roof Co-Working Space for Female Entrepreneurs
625 Palms Blvd,
Venice, CA 90291
RSVP: **Space is limited to 30 seats**
Tickets are no longer available, as this event has passed. But if you'd like to register for future event updates, please join our MeetUp group here:  http://www.meetup.com/togetherforwomen/
***********
Facilitation format:
This will be an interactive and collaborative evening. We will be facilitating a UX / Lean / Agile approach to create an engaging, fun and value-oriented evening. This is a great opportunity for you to to tell us what you value and help us shape the future of TOGETHER! offerings that support women entrepreneurs!
Why we are doing this:

The TOGETHER! Network is conducting research on the hopes, goals and challenges of "new and existing female entrepreneurs".
This research is part of the "Design Thinking for Innovative Problem Solving" course via the Darden School of Business #DTDarden, that Rocio Villalobos and Tatjana Luethi recently completed. This study will help inform future initiatives the TOGETHER! Network can launch to help female entrepreneurs achieve their goals.
Educating and empowering women is good for the economy. Empowered women contribute to the health and productivity of their communities. Unfortunately "access" to business opportunities and support continues to affect women, limiting their capacities and potential in entrepreneurship. "Equality" is another significant challenge for women who often find themselves working for less, or free (volunteer).
********
The TOGETHER! Network stands for building an economic infrastructure that fosters, values, & compensates women for their underutilized natural abilities, their capacities and unique point of view, that have been relegated to sidelines thus limiting the economic potential of women entrepreneurs.